MICRO LEARNING


Learn anything in small, manageable and digestible chunks.
The future of learning is bite-sized.
I am excited about micro learning!
I believe that learning in
small steps (unlike the traditional approach of
learning
through long courses) is more effective and suitable for today's learner. As an instructional designer, I often communicate with instructors who create long Power Point presentations for their learners (sometimes 50-70 slides per lesson) or video lectures (longer than 20 minutes). Often times these resources repeat what students can read in the textbook. The feedback we get from learners shows that they either do not watch/review these long presentations/lectures or watch them partially.
I feel great when I am able to convince SMEs to break down information into bite-sized pieces, so that the learners can more easily digest new information. As I design online courses, and many learners access them on mobile devices, the concept of micro learning is
particularly important. I hope my website/project will provide more light on why micro learning is important and effective, and the future for micro learning is bright.
About the Author

I am an Instructional Designer at Pearson North America and a former teacher.

I love learning and learners. I believe we have to help learners learn what they need when they need it, and make the learning process enjoyable for them. As the learners and our life style are changing with the development of technology, we need new and better ways to teach, learn, and train .

Education
BEd Elementary, Moldova
e-Learning Certificate, UofT, Toronto
Master of Educational Technology, UBC (In Progress)



Powered by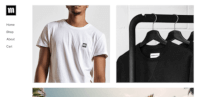 Create your own unique website with customizable templates.